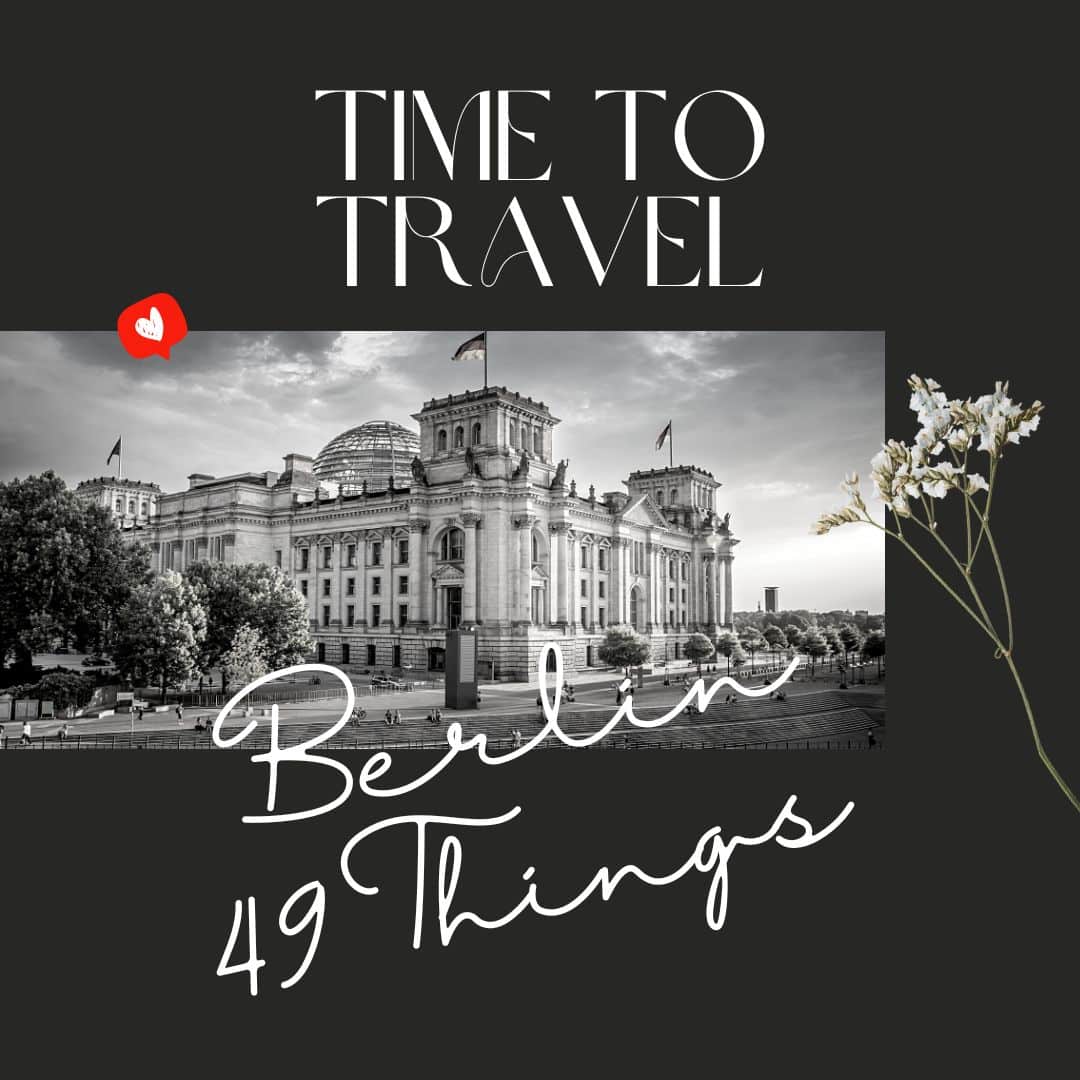 49 Things to do in Berlin
By Tripfix
Berlin is undoubtedly one of the world's most vibrant, exciting, and lively cities; every inch of every street is pulsating with life and energy. To help you make even more of your time, we've compiled this handy list of our top 49 unmissable sights and experiences.
Our Favorite 49 Things to do in Berlin
1. Sample a beer or two at Kulturbrauerei, a fantastic club, bar, and restaurant complex that used to be a brewery.
2. Sleep in a funky hostel like Plus Hostel.
3. Berlin's Festival of Lights transforms Berlin into a brightly colored work of art and a stunning nightly light show.
4. Eat some of the best burritos EVER in Dolores restaurant.
5. Grab a drink at a super stylish Luzia Bar.
6. Shop for cool sneakers in the Overkill shoe store.
7. Visit Sachsenhausen Concentration Camp for a haunting, fascinating, and essential insight into the Holocaust.
8. Eat at Burgermania for one heck of a burger experience. As you'd probably expect, you need to reserve a table.
9. Drink homemade schnapps and brandies at Dicke Wirtin, a little, old pub with a great atmosphere!
10. Grab a drink or two at arty student bar Zwiebelfisch.
11. Do some fancy shopping in KaDeWe Berlin's version of Harrods.
12. Take a Fat Tyre Bike Tour, where you can cruise around the city on massive comfy bikes, through parks, the zoo, and historic sites.
13. Challenge your friends to one of the hundreds of board games, and have a coffee while you do it at the Gaming Café.
14. Indulge in some fine dining at Borchardt restaurant.
15. Listen to some jazz at B-Flat club.
16. Sup a stein at Augustiner am Gendarmenmarkt.
17. Eat a wiener schnitzel; it's got to be done…
18. Be entertained while you eat first-class cuisine at the Wintergarten Theatre.
19. Watch The Blue Man Group, an original and innovative mix of concert, comedy, and special effects like no other show in Europe.
20. At the Berlin Beer Festival, you can find 2,000 different types of beer to sample from all over the world.
21. In India, people greet the beginning of spring with a spiritual festival of colors called the Holi Festival, and since 2012, the Germans have been getting in on the colorful action. So if India's a little far for you, don't miss out on Holi Festival Berlin instead!
22. The Trabi Safari tour is a fun sightseeing tour in old former German Democratic Republic cars in bright colors, making you one of the attractions on the street!
23. Chow down on currywurst at the excellent Curry 66 fast food restaurant.
24. Take a hot-air balloon ride and see Berlin from the sky.
25. Sightsee, get fit and get drunk. Take a beer bike on tour through the city.
26. Take a pub crawl and enjoy Berlin's fantastic nightlife.
27. Try sight jogging. See the city's best sights while you jog and stay in shape!
28. Mountmitte is a high rope climbing park in the center of Berlin. Can you make it to the viewing platform at 15 meters up?
29. Make your celeb dreams come true and take a picture with Lady Gaga at Madame Tussauds.
30. Gaze at more than 5,000 creatures at the Sea Life Centre. Eagle rays, octopi, and seahorses are just some of the underwater wonders you can find there.
31. If you have little ones, make a trip to FEZ Wuhlheide for swimming, sports, and dancing. They'll love it!
32. Go and check out the (still working) Filmpark Babelsberg Studios outside of Berlin. See tv and film sets, props, and costumes and get a tour behind the scenes.
33. Drink in one of the many dive bars in the hipster district of Kreuzberg.
34. Theater is Potsdamer Platz, one of the biggest theatres in Berlin, erected on a spot where the Berlin Wall once stood.
35. Great times in a pub atmosphere, the Kookaburra is the Berlin home of cheeky English comedy, cabaret, and burlesque.
36. Check out Berlin from a different perspective by visiting the Berlin Underworlds Museum, which shows bunkers as they were left after World War Two. Learn more about Berlin life after nearly 80% of the city center was destroyed and around 160 years of underground history in Berlin.
37. Party until the sun comes up at Watergate or Horst.
38. Go on the Alternative Tour, which will introduce you to the underground subcultures of Berlin, street art sites, and the best bit? It's free!
39. Look out for Photoautomaten, old black and white photo booths dotted around the city, for an excellent souvenir.
40. Go thrill-seeking at Potsdamer Platz and take a toboggan ride.
41. The Story of Berlin museum takes you on tour through 800 years of Berlin history with lights and sound shows. The exhibition's highlight is the tour of a nuclear bomb shelter which offers space for 3600 people and can still be used.
42. Seek out some authentic remaining sections of the Berlin Wall. The prime spot is where it runs between the Friedrichshain-Kreuzberg districts.
43. Take a moment or two to absorb the Holocaust Memorial, a poignant reminder of the victims of the Holocaust right next to the Potsdamer Platz.
44. Soak up (even more) Berlin history at Checkpoint Charlie. This most famous East-German-West-German border crossing made cameos in movies such as the legendary James Bond film, Octopussy.
45. Brave enough to sing karaoke in front of 100s of people?! The Mauerpark Colosseum is the perfect spot to find your voice.
46. Love hunting for bargains? Browse the vintage and independent stalls in the Sunday flea market in Mauer Park.
47. The DDR Museum in the center of Berlin explores an average day in the life of the people in the old German Democratic Republic (GDR). Step straight into a collection of East German memorabilia, including a mockup of someone's living room, and try driving an old Trabi.
48. Chill out, picnic, get sporty, or just cool your feet in the fountains during the summer months in Volkspark Friedrichshain, the oldest urban park in Berlin.
49. Show your artistic side and visit the Salvador Dalí exhibition at Potsdamer Platz.
Phew!