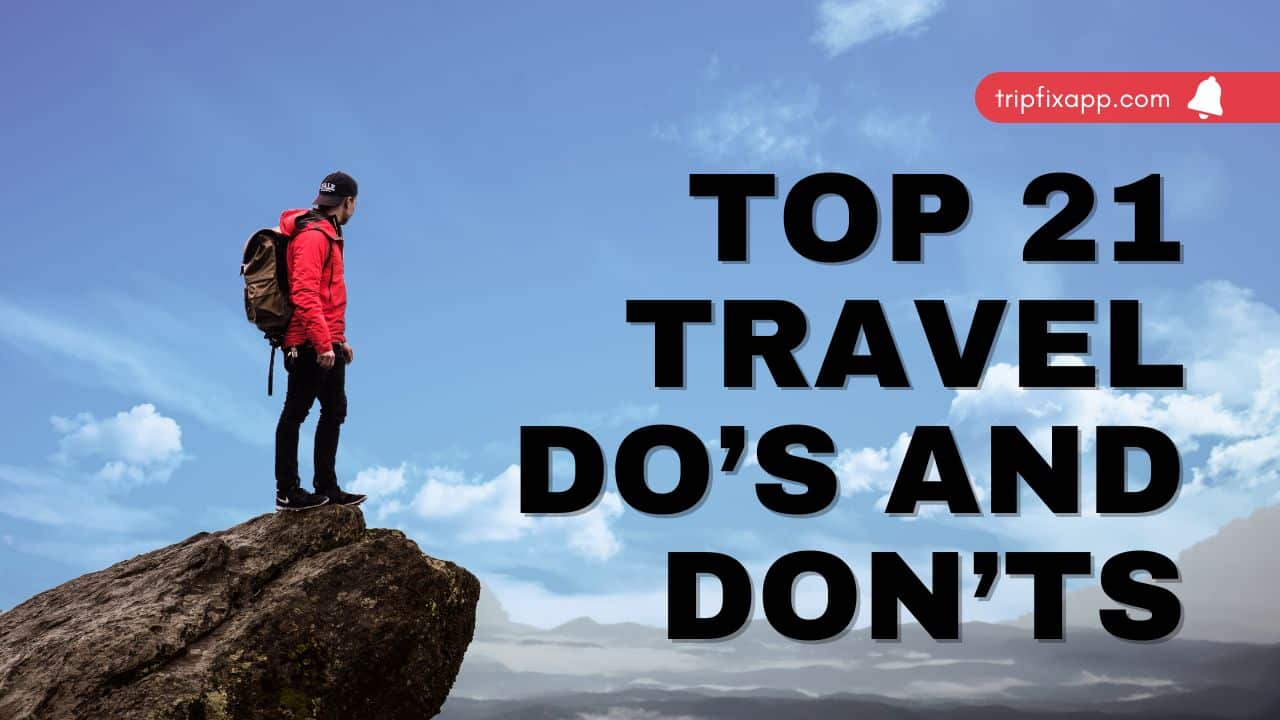 Top 21 Travel Do's and Don'ts
By Tripfix
Many of these travel bloggers have been traveling full-time for over five years and are verifiable experts in the travel world. Here are their top travel do's and don'ts that will help you get the most out of your travels and stay safe while you're away from home. For more information on each blogger, you can click their blog and be taken to their homepage.
João is a travel expert and has visited 120 United Nations countries, 247 UNESCO World Heritage Sites, and 20 non-recognized countries and territories. His carefully curated blog includes articles, photos, videos, and a list of his "go-to" travel resources. Here is João's top travel do's and don'ts:
DO: Talk with local people while you travel. Even if you don't know the language try to interact with the locals on the streets. Most of the time, no words are necessary, and a big smile will open funny interactions.
Don't: Travel heavy. I only travel with a maximum of 7kg – 10kg hand luggage – an old, dirty backpack.
Our Awesome Planet was started for Anton's sons, Aidan and Joshua, so that they could have a documented history of their childhood. It is now a family blog with city and food guides. For travelers planning on visiting Asia, Our Awesome Planet is an excellent resource with many tips and guides. Here is Anton's top travel do's and don'ts:
DO: Eat with the locals; it is one of the best ways to understand a country's culture.
DON'T: Race to check off the most number of sites to see. Travel is about discovering different cultures and experiencing the place as the locals do.
The Poor Traveler is a travel blog to dispel the belief that "travel isn't for everyone." Yoshke and Vins are not your typical digital nomads. Despite experiencing social anxiety and bad luck, their love for travel fuels their adventures worldwide. Yoshke is part of the Poor Traveler team and has shared his top travel do's and don'ts:
DO: Get out of your comfort zone. Open yourself to possibilities. Try new activities, modes of transportation, and new types of accommodation. Travel is beautiful; it allows you to discover the world and discover more about yourself along the way. The items you never imagined you could do can turn into boxes ticked on a bucket list you never knew you had.
Don't: Rush things. Your trip isn't an episode of the Amazing Race. Don't try to do and see it all in a short time. The pressure will spoil the fun, and you will only disappoint yourself. Stop, relax, and take your time. You'll be amazed by how things are much more beautiful when you're not in a hurry.
Johnny Jet is a place where travel experts share tips and expertise. Johnny provides an incredible resource that teaches readers how to travel economically, comfortably, efficiently, and with plenty of styles. Here is Johnny's top travel do's and don'ts:
DO: My number one travel tip is that passengers should always be genuinely nice to everyone they come across—from the reservation agents to the flight attendants and everyone in between. You will be surprised how far a big smile and just being genuinely friendly will go.
Don't: Don't be a jerk. It will get you nowhere.
Dave and Deb are the dynamic duos that make up The Planet D. They live by the motto, "Adventure is for Everyone," and have been helping people achieve this motto for the past seven years. The PlanetD beat out National Graphic for Society of American Travel Writer's Travel Blog of the Year. Here is Dave and Deb's top travel do's and don'ts:
DO: When traveling, step out of your comfort zone. Now is the time to try something new and push yourself to try something you never thought possible. Travel is a fantastic time to face your fears and discover new interests.
Don't: Ever travel without medical insurance. Things can happen anywhere, and you may find that you need a flight out of the Amazon (as we did), emergency medical evacuation or extended hospital stays in another country. You can't just fly home all the time when something happens. Give yourself peace of mind and purchase it. It's a small price that may save you thousands of dollars should something happen.
Where's Sharon is a family traveling blog that helps readers travel smarter, cheaper, and better with kids. Sharon and their family spent 13 straight months living and traveling in Asia and Europe. Where's Sharon is an incredible resource for every traveler, especially those traveling with children. Here is Sharon's top travel do's and don'ts:
DO: Do it! It's easy to overthink travel and find reasons to put it off, especially if you have young kids. Don't do this! Just do it! You won't regret it.
Don't: Overpack! Packing far too much is easy, but everything is much easier, and you can be more flexible when you travel light.
Follow them on Facebook and Instagram.
This is a book you can judge from its cover. Goats on the Road is a blog with a killer name and killer content. Nick and Dariece believe that everyone can and should travel, and their blog is a phenomenal guide to doing this. From destination guides to making money while traveling, Goats on the Road has everything. Here are Nick and Dariece's top travel do's and don'ts:
DO: Try the local cuisine. Often the best way to meet local people is over a meal. Wouldn't you instead be sitting next to (or standing next to) locals chowing down on a traditional soup, taco, plate of noodles, etc., then in some stuffy restaurant with tourists eating Western food?! Not only is the local food delicious, but you'll meet the residents of the city you're visiting.
DO: Get off the beaten path. Even if you're in a busy city like Rome, Paris, Shanghai, etc., always find your way away from the typical trail and look for hidden gems – small restaurants, people playing games, street life, etc… This is the best way to get a feel for the place you're visiting.
DON'T: Overplan. This is one of the most significant pieces of advice for people. Although you may want to have your accommodation booked in advance or something like that, make sure every hour of your trip isn't planned out. Leave lots of room on your itinerary for spontaneity.
Robert left his "daily hell" over four years ago and has never looked back. With his newfound freedom, Robert has had the opportunity to "err" his way into expert traveler status. His travel blog is a testament to that, with guides and pictures of every place he has visited so far. Here is Robert's top travel do's and don'ts:
DO: Say "yes," be it to once-in-a-lifetime excursions, strange transportation, or food you wouldn't consider eating at home.
Don't: Pack more than you can carry with you on a plane—anything more will weigh you down.
These travel eaters live for travel and adventure. Their blog includes guides on popular destinations such as Turkey, the Philippines, South Korea, and so much more. Readers can not only see a country but also taste a country. JB and Renee have been in the Philippines and traveling together since 2005. Here is their top travel do's and don'ts:
DO: When you visit another city or country, remember that you're like a guest in someone else's house. Wouldn't you want someone coming into your home and acting as if they own it, right?
Don't: When traveling, be mindful of the customs, don't leave a mess, always be respectful of the locals, and never feel entitled.
Since 2009, Marcello has gained total freedom by learning, through trial and error, how to trade in the stock market. He made mistakes so new travelers and traders didn't have to. Check out his free day trading academy here to learn more about gaining financial freedom through the stock market. Here is Marcello's top travel do's and don'ts:
DO: Stay composed while traveling. It's important to understand that no matter how scared or lost you are, if you behave in a manner that seems insecure or flustered, you will always be a target of any potential threat. If you're lost, walk straight like you know where you're going, sit down, and look at a map. Even if you're afraid, act as though you aren't. That has been the most important thing I can tell travelers, and I suspect it has saved me from quite a few close encounters.
Don't: Get flustered or act frightened.
Travel Dudes is a social travel platform for travelers by travelers! Travel Dudes is an incredible community that pulls from travelers worldwide to have a website of curated travel tips in every sector of travel. Melvin is the founder and CEO who loves to travel and discover the world. Here is Melvin's top journey do's and don'ts:
DO: Be prepared for your trip. Do keep spontaneous! Do get lost, but do not stay lost.
Don't: Stick to your schedule. It's good to be prepared for a trip, but do not book it all in advance, maybe the first 1-2 nights. From there on, try to stay spontaneous and flexible and see what happens. Get lost when in you are in a new destination and wander around. Walk more than usual. You will then have experiences which you will never forget…95% in a positive way. 🙂
Dan and Audrey are a husband-and-wife storytelling team on the adventure of a lifetime. They strive to create a movement of respectful travelers by connecting readers with people and places they might otherwise never hear about or actively disregard. Here is their top do's and don'ts of travel:
DO: Travel with respect and curiosity. This will open doors and help you connect with people in ways you could never imagine.
Don't: Try to do it all. You'll often come away feeling exhausted and unable to absorb and enjoy all you saw. Usually, "less is more" when it comes to travel.
Gary has been traveling the world ever since March 2007. His blog is a wealth of knowledge and guides he's gathered from traveling for the past nine years. Here is Gary's top travel do's and don'ts:
DO: Carry a pen with you when you take an international flight. You will need it to fill out the customs form; they usually don't have enough on the plane.
Don't: Make jokes about security when at an airport. Just don't do it.
Esther and Jacob have made the whole world their home. Every year they move to a city and explore an art form locally. Their next big adventure? The open road! Their blog chronicles their local experiences and some excellent guides for international trips. Here is their top travel do's and don'ts:
DO: Research and have a general game plan so that by the end of your trip, you won't have missed something important to you.
Don't: Plan out every minute. Leave room for spontaneity, discovery, and adventure. It's a fine line that you'll learn to balance over time. Photography and food take priority for us, so we usually plan our days around where we want to be for sunset and what we want to eat. We then have a list of other points of interest to fill in the gaps.
Travel with Bender chronicles the adventures of the Bender family: Erin, Josh, Mia, and Caius. Ever since they left Australia in May of 2012, they have used their experiences to create a beneficial blog for families who are looking for tips and inspiration. We are lucky enough to have top travel do's and don'ts from Erin, creator and senior writer of Travel with Bender, as well tips from 7-year-old adventurer Mia:
Erin:
DO: Pack light. Trying to juggle sleeping kids and luggage at the airport is the pits. Not to mention trying to get everything into a taxi.
Don't: Not go. There is a vast world, so go out there and explore. Also, don't keep all your cards in one spot 🙂
Mia:
DO: Travel by airplane. It's fun for kids.
Don't: Spend 5 hours in the car, because it's boring for the kids.
Legal Nomads is helping to break down the misconception that street food is less safe than eating in restaurants. Most people have fallen prey to tourist trap restaurants and miss out on the incredible experience of eating street food with the locals. Here is an excerpt from her article, "How to Eat Street Food Without Getting Sick." Click here to read the full article:
DO: Bring a translation card if you have dietary restrictions.
DO: Go to local universities to find a cheap place for lunch. Restaurants near universities are typically a fun variation of "east meets west." It may not be the best meal of your life, but it will be local, fast, cheap, and delicious.
Don't: Go to local universities for dinnertime, and the food will have been sitting out for the whole day.
Don't: Look at the length of the line and check out who is in that line. More variety in the customer base usually means the stall is safe for everyone.
Megan and Mike have been traveling and blogging since 2007. Mapping Megan is the perfect travel blog for people who sees traveling as simply part of the journey, but the real adventure is what you do at each destination. Megan and Mike are self-proclaimed adrenaline junkies and are on a mission to bring the best in adventure travel from all over the globe (and succeed!) Here is Megan's top trip do's and don'ts:
DO: Leave your itinerary with someone you trust. No matter your age, never underestimate the importance of letting someone at home know where you will be and how to contact you in the case of an emergency. It doesn't make you any less independent or any less "cool" – if things go south, you'll have someone who can immediately aid and assist or even attempt to locate you.
Many countries have innovative traveler enrollment programs where you can register your trip with your government. In cases of natural disasters, civil unrest, or other emergencies, your embassy will be able to assist you. Check your government website for more information.
Don't: Travel without international health insurance. It's a foolish move. You wouldn't go without your tickets or passport, so why risk going away without a proper health insurance plan? Travel insurance is one of those things that you never want to understand the value of, but if you have to, you don't want to regret having brushed off its importance. It doesn't matter if you're traveling for a week, a year, or even just a day; the fact is, you never know what could happen. And international health plans are ridiculously affordable, so there's no excuse to travel without one.
Ever since leaving her corporate job in the Philippines on April 5, 2013, Aileen has been making excellent articles that revolve around travel hacks, guides, recommendations, and tips. I Am Aileen makes travel more accessible for everyone and helps potential travelers find a good starting place. Here is Aileen's top journey do's and don'ts:
DO: Live by this quote from Susan Heller: "When preparing to travel, lay out all your clothes and all your money. Then take half the clothes and twice the money." This 'mantra' has always made my adventures hassle-free and easy!
Don't: Close your mind to the things you see and feel. Be open to new experiences and be understanding of other people's customs and quirks — in this way, you'll be challenging your prejudices, and it will enhance your travel experience more and more.
Steve doesn't believe that travel and adventure can happen if you live passively and hope to find some time to travel. You need to, and should, make time for travel. He is blog is an excellent resource for those who want to start exploring more but feel tied down by their jobs. Here is Steve's top travel do's and don'ts:
DO: Travel safe. Travel is a lot safer than it seems, but it's still good to be aware of your surroundings and to keep an eye on your valuables. While this may be a "boring" answer, nothing sours a trip like a pickpocket taking your wallet. And remember that the biggest dangers in travel are usually the most mundane ones. For example, you should watch out for car accidents as one of the biggest threats.
Don't: Try to overdo it. There's always a temptation to fit in as much as possible, especially if you're strapped for time, but I find that some of my best memories from travel occur when I wander around. That's how I meet people and find calm, off-the-beaten-path places you don't often see in travel guides. It's good to have an itinerary but spend some time simply exploring and soaking in the culture.
Laureen Uy is an avid traveler whose closet just doesn't quit! Break My Style is the perfect blog for those who want to see the world in style. Each of Laureen's posts features a new outfit, with details below the pictures and a quick blurb on the location she's visiting. Here is Laureen's top travel do's and don'ts, with a unique fashion twist!
DO: Bring spare clothing all the time! You'll never know if you need an extra outfit or two.
Don't: Use a big bag whenever you're touring. It'll just hurt your shoulders. Remember to bring a small sling bag and bring all your necessities! 🙂
TRAVO: Gabriela Yu
I can't claim to be a travel expert like those above, but I am a travel enthusiast. I have traveled around the world the friends and family, and here is a couple of my travel do's and don'ts:
DO: Use Google Maps while traveling abroad. You don't need an internet connection to navigate with Google Maps. Before you leave wifi, drop a pin on some of the locations you would like to check out, then direct your blue dot in that direction: colossal time saver and much less cumbersome than pulling out a complete map.
Don't: Get too fancy with your choice of walking shoes. If you're planning on touring a new city by walking around, make sure you're wearing a comfortable pair of sneakers. I recommend an older pair of running shoes or canvas shoes than can easily lay flat in your suitcase. Getting blisters can easily ruin the rest of your day, if not the rest of your trip!