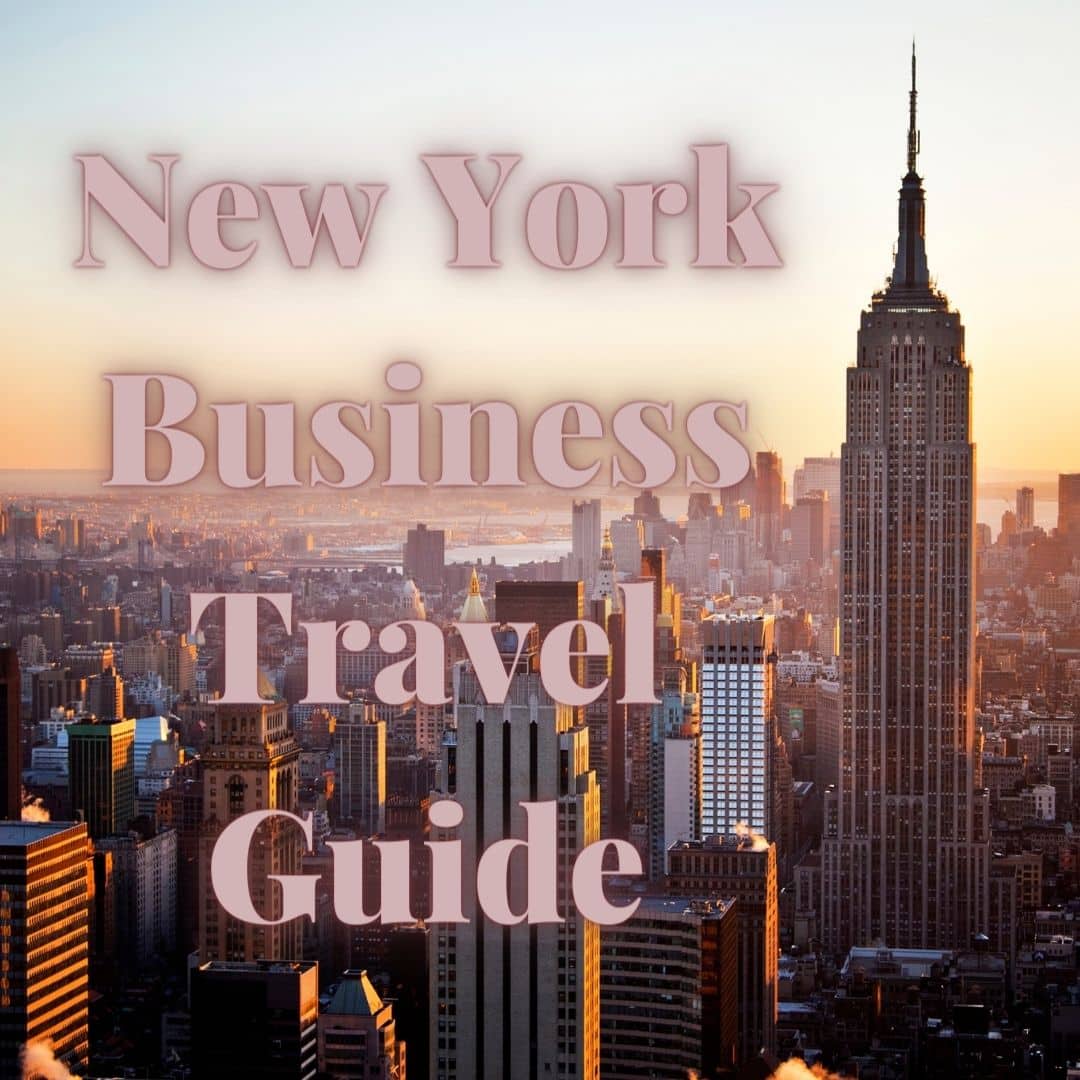 New York Business Travel Guide
By Tripfix
New York is the third most visited business destination in the United States. Furthermore is the most popular tourist destination in the US. I will face Many admins with at least a trip to New York, if not one hunYork. That first trip can be a little daunting, but never fear! The TRIPFIX New York business travel guide is here to help. We have it covered, from finding the best way to get your manager from the airport to the city to helping find those perfect leisure activities. Use our New York business travel guide for your first or hundredth trip to the Big Apple to make the travel planning process much more manageable.
Getting from the Airport to New York City
New York has three of the largest airports in the country servicing its travelers. These airports combine to create the most extensive airport system in the US. Choosing the best one depends on your manager's preferred ground transportation, airline, and where they will stay in the city. We recommend avoiding renting a car at all costs for ground transportation. Parking in New York City is notoriously difficult and expensive. Instead, use public transport or taxis, which are everywhere. When your manager lands at any airport, you should recommend options to the city.
Public Transportation
If you are flying into John F Kennedy International Airport (JFK), you can take the AirTrain to Jamaica Station, a central hub for most bus and subway lines in New York City. This is probably the cheapest way to get from JFK to the city center costing only $7.75. The only downside to this option is if you are traveling with a lot of baggage, you must carry a lot of baggage up and down subway stairs.
Newark Liberty International Airport (EWR) offers the Newark Airport Express, which stops at three central locations in New York City: Grand Central Station, Bryant Park, and Port Authority Bus Terminal. The round trip cost for this bus is $28 (or $16 each way). It is a perfect cost-saving option for business travelers because it gets you directly into the city with minimal stops and no stopovers, which means no lugging around bulky suitcases. However, it is more expensive than the JFK option.
From LaGuardia Airport (LGA), you can take the M60 bus, which runs every 10-20 minutes. This bus will drop you near any subway station you need to catch a subway to nearly every part of the city. Best of all, when you buy a MetroCard, you will be able to transfer to the subway for free after riding the bus.
Public transportation in New York City will always be the cheapest option for getting in between most places. However, depending on where you are going and when it can take considerably longer than taking a taxi or car service.
Taxi or Car Services
Taking a New York yellow cab is the easiest way to get from JFK to anywhere in Manhattan. However, it is considerably more expensive than public transportation. For trips between Manhattan and JFK, the flat fare is $52.00 plus any tolls and a tax of $.50. So you should expect to spend at least $60 on your cab. It can be worth it, however, if you are traveling in a group to New York. Newark will cost about $70, and LaGuardia will cost about $60 if you plan to take taxis while in the city. We recommend downloading the Way2Ride app, which is available on iPhone and Android. This app helps you hail taxis, and you will be able to pay directly through the app, so you don't have to worry about carrying cash with you.
Using Uber or other rideshare services can save you money if there is no surge pricing. You can get a more exact estimate for your Uber ride using their website. An UberX from JFK to the Metropolitan Museum of Art is expected to cost $55-71, Newark to the Met should cost $45-52, and LaGuardia to the Met should cost $30-40.
Getting Around New York
The best, most convenient, and easiest way to get around the city is going to be public transportation. The subway and bus systems are straightforward to navigate, mainly since TRIPFIX provides step-by-step directions with every itinerary. If you plan on taking public transport often, be sure to get a MetroCard. You can quickly fill these with more money, and they work on both the subway and the bus. At the end of your trip or your manager's trip, be sure to hold on to this card because they don't expire, and you can use it for the inevitable next business trip to New York.
Hotels Close to Jacob K Javits Convention Center
New York's convention center, the Javits Center, is one of the busiest convention centers in America. From the world-famous New York, Comic Con to the New York Business Expo & Conference, the Jacob K. Javits Convention Center hosts popular conventions and conferences. If you plan a trip here, you can easily find hotels close to the Jacob K Javits Convention Center using TRIPFIX.
Dress for Success in New York
New York experiences classic seasons:
Hot and humid in the summer, cool and crisp in the fall, chilly and biting in the winter, and comfortably warm in the spring. The New York business travel guide key to dressing sharp in New York is knowing how to avoid the weather. The subway in the winter is a great way to escape the chill and ensure you don't freeze to death on the streets. Busses, however, are the key to surviving New York summers and avoiding subway stations as much as possible. Many subway stations are not air-conditioned and trap heat, which is excellent for winter, but not so much when it's 90 and humid. Busses, however, have shorter lines, you're not as cramped, and they are wonderfully air-conditioned. And if you have to wait for one, you can at least hope for a nice breeze.
Bleisure Trips to New York
New York is one of the best places to go for a business trip. Beautiful museums, delicious food, and unbeatable music are around every corner. Every business traveler can travel to New York hundreds of times and never be bored! This part of the New York business travel guide to seeing the city and getting a little leisure out of your next business trip.
New York's Museums
For those who love art, New York is the best place for you to be. The Metropolitan Museum of Art is one of the most excellent museums in the world, with art ranging from Egyptian artifacts to classics from nearly every European artistic master and an extensive collection of modern art from the Americas. The Met the located near Central Park, so it is easy with one of the other greatest draws of New York City. One can easily spend an entire day at each of these attractions. However, business travelers don't always have the luxury of time, so you can easily combine these two attractions. While we recommend paying the total ticket price, those of you with managers who like to do everything on extreme budget and value getting a deal admission to the Met is on a donation basis. It means you can choose to donate their recommended ticket price of $25 or more or less than this amount.
You can also visit the Museum of Modern Art (MoMA), which holds the most extensive contemporary art collection. MoMA showcases avant-garde art from around the world and celebrates those who pushed the boundaries of ideas and creativity. If your manager is passionate about art, but only has limited amounts of time, download the free MoMA iPhone App to plan their visit ahead of time so they can maximize their time while they are there.
New York's Restaurants
The best work is done while eating the best food, and that's easily found in New York. Good food can be found nearly everywhere in New York, and you will, however, see that this food comes with an above-average price tag. For some of the best eats in New York, check out Eater NY's list of 38 Essential New York Restaurants. Most of these restaurants are located in Midtown and Lower Manhattan, so they are just a short subway ride from most hotels and offices your manager may be staying here.
For the manager looking for quick and easy food, the New York hot dogs are always a delicious classic that they can find everywhere and eat on the go as they walk through Central Park. Shake Shack is also a New York staple that provides high-quality burgers at fast food speed and almost fast food prices.
My recommendation is Petee's Pies. And, you don't have to take my word for it. NY Magazine said Petee's is the absolute best pie in New York. And I can say from experience that they weren't lying. Baked each pie fresh and from scratch every day and their crucial lime meringue had lime rinds in it.
New York Shopping
If you have a manager who loves shopping, New York is both a blessing and a curse. While they will have access to more stores and unique shops than nearly anywhere else, they will face the constant battle between their conscience and their wallet. However, if they are willing to risk it, we recommend shopping in the Soho area, where they will find smaller stores and boutiques that are unique to New York City. Remind them to bring an extra bag so they can bring all their loot back with them!